Hello, everyone!
I have had a lot going on and still so much more to come.  I'm going to start here with what I have been up to....
Teaching: 
    I have been getting around the country quite a bit teaching workshops of my Reverse Glass Enameling process.  It has been, at times, fun, rewarding and exhausting, but always an adventure!  I have met some amazing human beings and seen parts of the country I might not ordinarily get to in the course of my lifetime.

A montage of some student work from a workshop at Weisser Glass in Kensington, MD early this spring --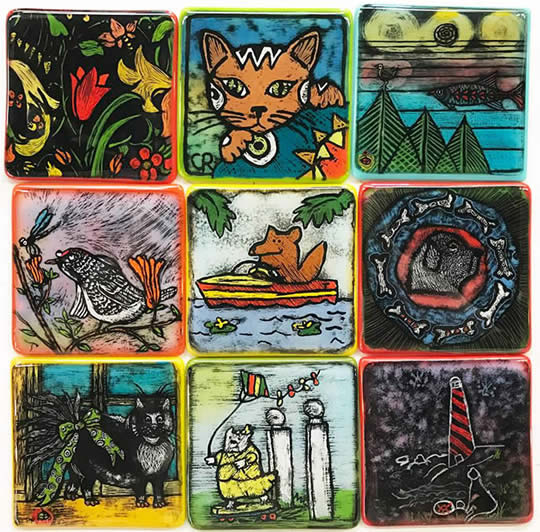 Making:
    I have set up booths at several art shows since the middle of July - in Salem, Sunriver, Bend, Tigard - and have three more coming up in the next few weeks.
    I've also been working on some new designs as well as turning some of the new and some old designs into wall hanging tiles as an alternative to bowls.  I love the little spots of color these provide to any little corner or wall space.

Playing:
    Somehow the husband and I have even found time to get out and do a little camping before the snow hit our area.  We did a little trip through Portland and over to the coast, down a bit and back through the Detroit Lake area heading home.  It was fun and the dogs just LOVED running on the beach.
I really hope your summer and fall have been full of great things for you and your family, too.  I look forward to catching you all up on what is coming up for me real soon!
Cheers!